Technical Information
Limited End Float Axial Alignment
Alignment Record for Limited End Float Gear Couplings
Many electric motors have no thrust bearing per se and rely on electromagnetic forces to center the rotor. The axial alignment with limited end float coupling is designed to prevent damage to the motor bearing shoulders. The location of 'magnetic center' must be known prior to starting the alignment. One should not assume that it is located in the middle of the total motor shaft axial travel.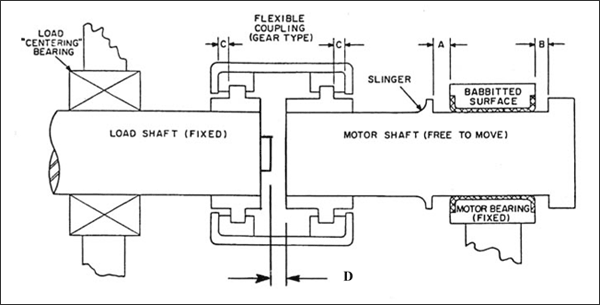 Measure and record distance that the motor shaft travels from magnetic center unrestricted by the "load shaft:

A = ________"INBOARD"

B = ________"OUTBOARD"

Set and record dimension "D" which is a distance between the motor shaft, when on
magnetic center, and the "load shaft" thrust button face:

THIS DIMENSION MUST BE GREATER THAN "ZERO" AND SMALLER THAN "B"

D = ________

Verify the coupling sleeve total float (bolted, with motor on magnetic center):

THIS DIMENSION MUST BE GREATER THAN "ZERO" AND SMALLER THAN "A"

2C = ________
If required, adjust thrust button thickness or hub separation to reach desired distance.
For a printable PDF download: Limited End Float Axial Alignment
---
Oil – General Characteristics
FLUID DRIVE RECOMMENDED OIL
The hydraulic fluid that is used in a fluid drive is petroleum-based oil called "turbine oil" – so called because of its use in steam turbine lube systems. This oil is relatively thin and free-running at normal operating temperatures. Its viscosity is 150 SUS at 100°F.
This type of oil is used because of its uniform quality, ready availability, compatibility with all materials of construction, non-corrosiveness and heat transmission capability.
GENERAL CHARACTERISTICS OF OIL
[BASED ON MOBIL DTE OIL]
Gravity, API
31.7
Specific Gravity
0.871
Pour Point
20° F, -7° C
Flash Point
395° F, 201° C
Viscosity: Saybolt Universal Seconds
150/165 SUS @ 100° F
Viscosity: Saybolt Universal Seconds
44 SUS @ 210° F
Viscosity: Centistokes
27.8/32.0 @ 40° C
Viscosity: Centistokes
5.3 @ 100° C
Viscosity Index [Min.]
100
ISO Viscosity Grade
32
Color ASTM [Max.]
1.5
Neutralization Number
0.20
NOTE: Other properties of Mobil DTE Light, not shown, should be conformed to when using other similar high grade mineral oils.
Synthetic fluids are currently not acceptable for use in Fluid Drives.
For a printable PDF download: Oil – General Characteristics