Fluid Drive Replacement Parts and Drives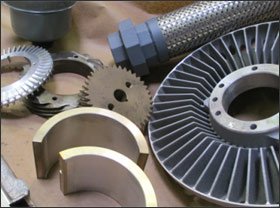 As a service focused company; PowerFlow Engineering, Inc. is always attuned to our customers' needs and strives to anticipate ways that we can help maintain a smooth, cost efficient and profitable operation.
For example, we have invested a great deal in reverse engineering for parts that can be difficult to find, even obsolete, and involve long lead times to produce. We have created thousands of drawings and used them to make required or sought after parts. We have built a sizable inventory of these parts for ready distribution, providing wait times that are shorter than those you would experience with the competition. In addition, we maintain drawings for parts that we have re-engineered in such a way that they've been enhanced and proven in operation to outperform the OEM's own part. We go to great lengths to improve on the original model whenever possible in our efforts to produce long lasting, high quality parts.
Our engineering facility utilizes laser scanning equipment and quick component printing for producing castings with a short turnaround time. Many other cutting edge capabilities support us in our ability to provide customers with the best solution to almost any functional problem and to improve equipment longevity.
Our specialized equipment and highly professional service makes PowerFlow Engineering, Inc. The powerhouse in the industry. The superior support of our vendors' helps PowerFlow Engineering, Inc. respond to our clients' needs within desired lead times. We have enjoyed good cooperation with many vendors in machining, metal plating and heat treating fields to name a few. With accessibility to multiple cranes and fork trucks, we are fully capable of handling loads up to 40,000 lbs. The vendors we cooperate with understand and share our business service philosophy and meet the shortest possible lead times while maintaining the best engineering practices.
When ordering from us, you will never encounter an automated system. Even after hours your call will be directed to someone for personal service.