Fluid Drives Services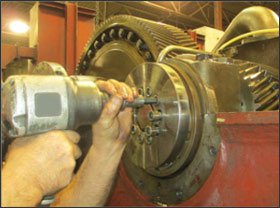 At PowerFlow Engineering, Inc. there are many options available to you for service and support in our efforts to help keep your fluid drives, torque convertors for gas turbine starters in good working condition and to repair them quickly when those situations arise. These services fall under our 24 hour a day/7 days a week availability guarantee.
Services we offer:
On-Site Repair and Maintenance Services
We have a highly trained team of service technicians and specialists with many years of experience available to trouble shoot fluid drives and associated powertrain equipment. Our technicians work together with engineers and Senior Product Administrators to perform on-site inspection, equipment evaluation, troubleshooting and corrective maintenance to help you assess, repair and maintain your equipment. Preventive maintenance is a cornerstone of our business. Going the extra mile to determine the root of a problem and making necessary adjustments to prevent recurrence is an important part of our repair and service program.
In House Repairs and Re-Manufacturing
If your equipment is shipped to our facility for repair it will be given a complete inspection where our team of experts will consider the most effective, time sensitive and cost effective repair or service. PowerFlow Engineering Inc. has the capability of supplying obsolete parts or when necessary, can replace the entire system with new or remanufactured "like new" equipment.
Our wide range of services includes reconditioning fluid drives and their components. All of our remanufactured drives and assemblies carry a warranty covered by PowerFlow Engineering, Inc. matching and in many cases exceeding the OEM warranty at a lower cost. The in house overhauling and reconditioning services we perform on customer's equipment are extremely thorough; in effect returning this equipment "like new" to our customers.
Run In Test
Variable speed fluid drives are no load tested to ensure safe, quality repairs. PowerFlow Engineering, Inc. offers load tests at our facility for fixed filled hydraulic couplings upon customer request.
Exchange, Lease, or Rent
PowerFlow Engineering, Inc. will rent, trade or lease previously owned, reconditioned drives and rotating assemblies to alleviate unscheduled downtime while your equipment is under repair. A cost effective alternative to a new equipment purchase could be one of our previously owned, reconditioned drives, the rotating assemblies or pumps.
Reverse Engineering
PowerFlow Engineering, Inc. has the unique ability to re-engineer ANY part on demand; including obsolete parts. Thanks to this program, we have thousands of documented parts immediately available.
Modifications
Throughout our years of being in business, we have developed and proved design enhancements to optimize or improve performance. PowerFlow Engineering, Inc. can also re-engineer or upgrade any drive to meet your specific application requirements or eliminate a recurring problem.