Equipment We Service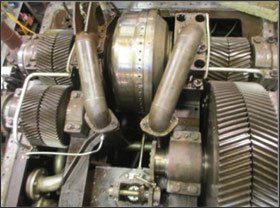 PowerFlow Engineering, Inc. has serviced many types of equipment and from a wide variety of OEM's. They range in duty from 10 to 12,000 HP and speeds from 600 to 6,000RPM. Scoop controlled, variable speed, 1:1, geared (stepped up or down), motor and turbine driven couplings are included. Our expertise also encompasses soft start, fix fill couplings, as well as torque convertors used as gas turbine starters. Brands include:
In most cases; the equipment that we service is run tested. Our level and depth of experience with this equipment is unparalleled in this industry. PowerFlow Engineering, Inc. offers a unique partnership with innovative, alternative and cost effective maintenance solutions. We don't just repair the aging couplings; we refurbish them to operate like new.
We have the ability to address a wide range of issues in the field with our team of experienced technicians and engineers. Our onsite or in house capabilities are truly unmatched. From a wide ranging inventory of parts available at a moment's notice to our ability to re-engineer any part (even obsolete parts), or rebuilt equipment available for sale, lease or rent; we do it all, and we do it well.
At PowerFlow Engineering, Inc., we are proud of our accomplishments. Customer visits are always welcome. Call us at any time to arrange a tour or to talk with one of our engineers. We encourage the personal contact and the confidence a visit lends our customers in choosing the services that we have to offer.